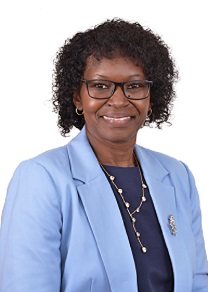 Independent Director
Judith Khamala Nyauncho has wealth of experience in Business Management and Finance spanning over 25 years in both private and development sectors.  She is particularly passionate in finance transformation. 
Locally, Ms. Nyauncho has served as a Business Analyst at the Nairobi Hospital and Finance Manager at the Federation of Women Lawyers in Kenya.  At the global level, Judith has supported the Kenya diplomatic mission by fostering diplomatic relations with Germany, Bulgaria and Romania as well as African countries. 
Ms. Nyauncho holds a Masters in Business Administration from the Eastern and Southern African Management Institute (ESAMI) and a Bachelor of Commerce (double Major in Accounts and Business Management) from Daystar University.